M.I.C.K 2 moves on to Factory Testing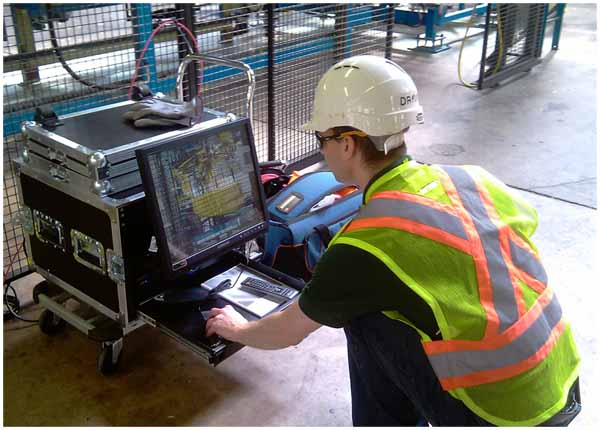 Matt Treby with M.I.C.K 2
The new version of MICK has entered its final phase of testing. To fully test the new MICK Systems capabilities this phase involved moving from the workbench to a real factory environment. One factory kindly allowed KCTS technical consultant and MICK designer, Matt Treby to spend a morning testing how well the MICK shaped up in a real factory environment with all the possible picture interference and problems that can affect camera systems. Matt also evaluated other properties of the new MICK like:
- Portability
- Setting Up
- Operating
- Safety
Matt was delighted to comment back that the new MICK system surpassed all his expectations. Some of the highlights were:
No picture tearing that comes from interference from electrical motors and machines. The system can now cope with longer runs of cable enabling the camera to cover a larger area (50 metres instead of 30 metres). The main Audio Visual unit is now portable with the introduction of wheels and a pull handle. The system can record continuously on up to 8 channels at a D1 resolution instead of the lower CIF, this has doubled the quality of the image. The whole system still runs at 110v, but has been upgraded to run at 240v if needed. However the most important thing is that it is still very easy to use and very quick to learn.
Now the testing has been successfully completed, a fully operational 4 and 8 camera MICK system will be built to support our training courses, as well as available to buy.
Tags: camera investigation kit, TPM