Written by: Lee Oxton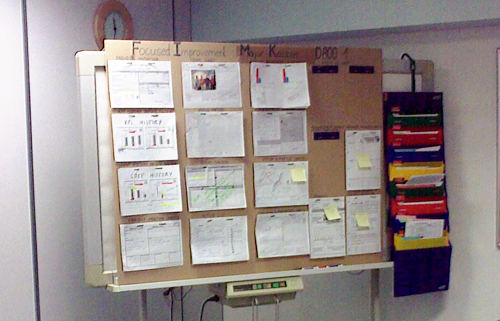 Focused Improvement Activity Board
Last week we successfully completed a problem solving project in the Netherlands. Our brief was to eliminate a reoccurring defect on a 1400 tonne injection moulding machines using Focused Improvement, which is part of the Total Productive Maintenance methodology.

KCTS trained 5 of the client personnel to practitioner standard in Focused Improvement which enabled the project to be completed with savings of €10,000 per year. The newly trained practitioners also completed another problem solving project in the same week resulting in an extra saving of €5,000 per year. Also as part of the course, the largest Customer Complaint issue on the 800 tonne injection moulding machine was eliminated.
Course Overview
Focused Improvement Standard Kaizen is one of the middle level WCM training courses run as an integral part of the WCM TPM programme within an organisation. It is designed to build on other Total Productive Maintenance experience and provide the skills and knowledge to help solve more complex site problems. The Course is designed to create focussed improvement practitioners who can lead (or be involved in) Focussed Improvement projects in their own Plant and support the implementation of WCM.
Tags: focused improvement, Problem solving, total productive maintenance