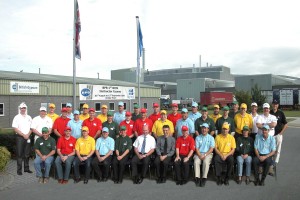 How to save a Million Euros 95 times…
207,000 employees, worldwide sales of 42 Billion Euros, manufacturing facilities in 54 countries and a plan! Well a journey to be more precise; a journey that began in the boom time of construction and now starts to shine on a gloomy economic landscape.
In 2002 British Plasterboard (BPB) now Saint Gobain Gyproc, began implementing the 'plan'. Consisting of an improvement programme that was to make their process plants part of the best performing sites right across industry; and for Saint Gobain, who are the Worlds largest plasterboard manufacturer, looking back at the original vision to increase equipment effectiveness and to up-skill the workforce, this initiative has resulted in a very wise move indeed. For a global company to operate successfully today their business must be ship shape, robust and at the very least have all 'basic conditions' taken care of, whilst a focus remains on costs.
That's a tick in those boxes then. But how does an international organisation move from their current state to the beginning of a continuous improvement journey? Clive Poole, World Class Manufacturing Development Manager for Saint Gobain Gyproc gave me an insight into what he thinks is the key ingredient to the programme. "People. We invest in the development of our people at all levels of the organisation. Our aim is to give everyone simple but effective methods to solve day-to-day problems that are encountered in the workplace.
"We're developing a culture of empowerment, where employees are encouraged to understand the plant losses, and prioritise activities so that they can take ownership of their work area and run it like it was their own business. Under this new culture, our overall business performance has increased steadily year on year delivering results for our customers and our business, which is a fantastic testament to everyone involved."
Total Productive Maintenance
Saint Gobain has chosen the methodology of Total Productive Maintenance (TPM), which is in fact the back bone to the highly successful Toyota Production System. The fundamentals to TPM are to ensure that equipment you have invested heavily in is available when you need it. "We choose to use Total Productive Maintenance as a core part of our improvement programme, as at the time, the main issues facing us were machine reliability.  Says Jim Sisson, Saint Gobain Gyproc Engineering & World Class Manufacturing Director.
"We also avoided the 'Lean' approach as our machines were not yet reliable enough to allow us to reduce our stocks, and TPM led for a more flexible manufacturing system as there are many aspects, which are referred to as supporting pillars. These pillars not only cover the maintenance aspect of our business but encompass Health & Safety, Environment, People Development, and Quality.
We also realised that we needed to employ external assistance to provide the necessary skills, and expertise to transfer knowledge to our people. Consequently we chose Wirral based specialist consultancy and training provider; Kaizen Consultancy & Training Services as our partner (KCTS), they have a number of training packages and models which fit in well with our WCM Programme".
A partnership
So, the scale of a worldwide plan of business improvement looks like a daunting path if travelled alone, but with the right assistance, bigger obstacles become achievable goals. Can a company save 95 Million Euros? That's a tough call! Can they save 1 Million Euros 95 times? Yes they can….through the duplication of successful improvement programmes. So how is a successful improvement programme implemented? Charles Johnston, Managing Director for KCTS sums it up with; "Determination, oh' and a bloody good consultancy partner!
"We are now into our seventh year of working with Saint Gobain and it's been a very exciting process to say the least. I have to commend the organisation for the commitment to such a programme. We're well known to be a strict consultancy partner that will not allow slippage, and as a client you are either 100% on board or not, anything else fails". And has the programme been a success for KCTS? "Without a doubt; we are very proud of what we have achieved with the Saint Gobain team.
They have many bronze status plants that are on their way to Silver, which is highly respected in the WCM World Class Manufacturing circles. These are phenomenal milestones but it has not been easy by any stretch of the imagination. We have provided practitioner training in all major plant locations around the World resulting in a core resource of change agents and practitioners throughout the Saint Gobain Gyproc organisation".
So how does KCTS define success for a client? "The main reason an organisation embarks on a programme of this scale is to make change. The biggest change comes by driving out losses and improving overall operational effectiveness (OEE) which we have done, resulting in tremendous efficiency cost savings over the period. To me, that is success".
The writing was on the wall
Chambéry, France is a major site for Saint Gobain Gyproc, where they produce a number of products in the Gypsum portfolio, including plaster board for the European market. Nigel Green, Manufacturing Consultant at KCTS recalls, "One particular improvement project was for a system component assembly, where the efficiency and quality of output on that one machine relied purely on the amount of adhesive that was applied to the boards. Naturally, because this was such a critical application of the Wall Partition Assembly Process, there was a tendency to lets say "apply liberally" and the site was using an excessive amount of glue to ensure that there was the correct adhesion, but then this had other implications further down the line.
"It was proposed to the site that the best route to take was to implement a problem solving exercise called Major Kaizen. This type of problem solving is extremely structured and incorporates a step approach learning model which enables the client to embed the knowledge gained, and replicate its application in other 'loss' areas of the factory. Once the project team had identified the root cause we then communicated our findings throughout the factory, across all shifts". And has the outcome proved to be sustainable? "Most definitely, and more importantly the savings continue to come just on this one project. Once the knowledge has been transferred to the onsite practitioners then they are more than capable of using the same toolset in other areas of the site".
This Wall partition production assembly project at Saint Gobain has reported to have saved the site approx 1 Million Euros to date and this is not an isolated success story. "Many improvement projects began life as training workshops, which are then handed over to the newly trained practitioners for completion" Says Jim Sisson. We now have the tools and the mindset to constantly challenge our performance and to continue to move a step further along our continuous improvement path. KCTS have proved to be a very good training provider assisting us in selecting and using the correct methods. Most importantly the training they give is very practical and allows our people to pick up and use the skills on the shop floor in an extremely efficient way".
Not just a fad
It's easy to see why an organisation would relish the idea of introducing structured work patterns and methodologies like Total Productive Maintenance, when savings of 1 Million Euros per project are obtainable. It is the rare few organisations that have the confidence in themselves to pursue such a huge change programme on an international scale without this hindsight. "We knew we had made a very bold move and chosen a traditional TPM route for our manufacturing improvements, but it was the right choice, and to date we have made over 95 Million Euros' in savings says Jim sisson. However it was the commitment to stay on track whilst other fads were pushed to the forefront that proved the unexpected challenge".
Tags: total productive maintenance, TPM, world class manufacturing