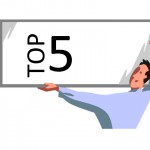 Written By: Stephen Ellis – KCTS Consultant
For those maintenance or production personnel contemplating introducing a planned maintenance programme, here, in no particular order, are the top 5 things to do:
1. Do you have the Leadership 'will' and commitment towards planned maintenance? To launch a planned maintenance system it will require resources – time, people, materials, systems. It will also require patience and persistence. Planned maintenance does NOT yield immediate results. It is important that the leadership understand:-
a. Why they have to have a planned maintenance system?
b. How to use a planned maintenance system to ensure it delivers effective results?
c. How to develop and create a planned maintenance programme?
2. Do you have a list of assets? To perform planned maintenance you need to understand your asset population and the detailed equipment information about each asset.
3. Where should you focus your planned maintenance resources and effort? With limited resources you will need to focus your resources based on priorities and need. Do you have any data or experience of what goes wrong, or where the risks are?
4. Do you understand the elements of a planned maintenance system – focus equipment and safe access to equipment, capable and available labour resources, available tools and materials, work standards and reporting, work scheduling, work and system review.
5. Do you have the necessary skills:-
a. To manage the planned maintenance system. Do you have to create the system? Is the system created? For both of these questions different skills are required.
b. To apply the planned maintenance tasks. Do you have the relevant skills to perform typical planned maintenance tasks – condition inspection, replacement, setting, calibrating, adjusting etc,?
If you would like to know more about how you can improve your planned maintenance programme effectiveness, please contact us.
Tags: assets, kcts, Leadership, maintenance resources, maintenance tasks, planned maintenance system, relevant skills, work scheduling