Written by: Lee Oxton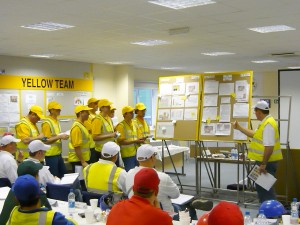 Training in Action
We are set to deliver our flag-ship Total Productive Maintenance (TPM) Instructor Course to world leading plasterboard manufacturer, Saint Gobain Gyproc. The two week event will be held in Shanghai, China and will involve thirty two continuous improvement engineers and other senior personnel representing Saint Gobain Gyproc plants from around the World.
Saint Gobain Gyproc is now into their eighth year of a World Class Manufacturing programme which encompasses 68 manufacturing facilities in 54 countries. The Instructor Course is to be held in April 2010 and will be the thirteenth event held to date, all of which have been delivered by ourselves here at KCTS.
The delegates who will attend this training will be put through their paces and if successful will qualify to Instructor standard in TPM, enabling them to go back to their respective plants and implement improvement projects in areas such as; 5S, Problem Solving, Autonomous Maintenance and Professional Maintenance.
As a result of this training outputs have increased by up to 40%, product quality has improved, safety performance is better and costs have been substantially reduced. Saint Gobain Gyproc have made an estimated 95 Million Euro in efficiency cost savings and are well underway to achieving Silver Plant status within their World Class Manufacturing model, throughout the Global Gyproc division.
Tags: instructor course, saint gobain, total productive maintenance, world class manufacturing